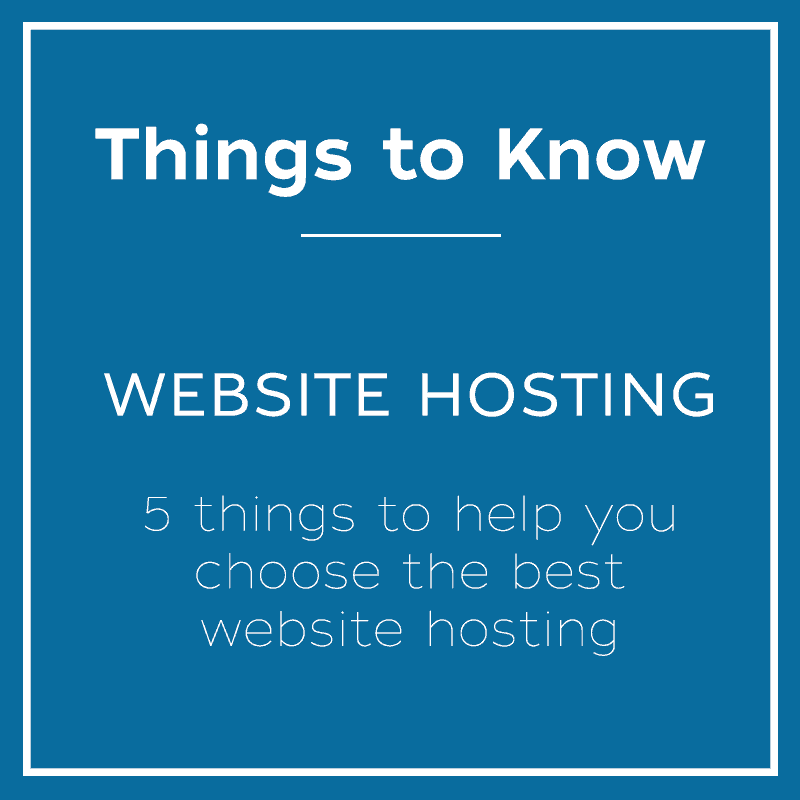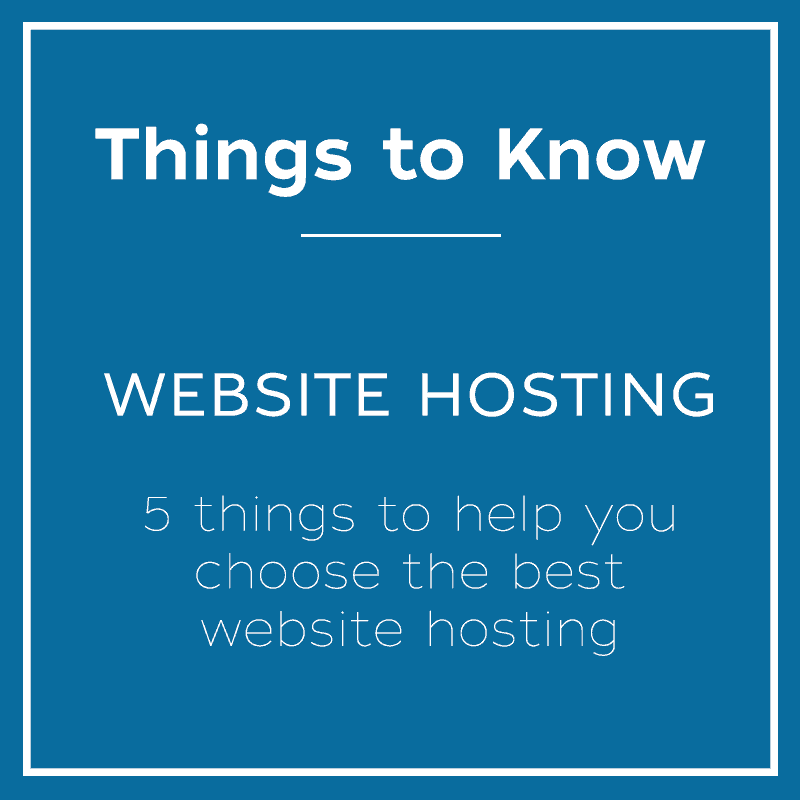 If you're wanting to build your site using software such as WordPress, then you'll need to purchase web hosting – a chunk of space on a server – to house your website. This same space can also be used to host your email accounts.
In this article I'll share with you a few things worth considering before you take the plunge.
Shop around – explore what's included.
The world of hosting is highly competitive, so it's worth looking at what's out there, and what people think of the service being provided. Performance, security and customer support – you want someone there if the shit hits the fan – are the key factors to take into consideration.
From the perspective of security there are some things you can control, and others you can't. For instance, if you go for a basic hosting package – and for most people starting off that's all you might be able to afford – you'll be sharing the server with other businesses and individuals. You have no idea or control over who you're sharing with. If they don't keep their software up to date and get hacked, it can impact you, as you're all sharing the same IP address, and it's the IP address that is blacklisted and blocked.
With security therefore, all you can do is put all the measures you possibly can in place – the things you can control, such as installing security plugins, installing SSL certificates, keeping the software and plugins up to date, and always using strong passwords.
Then there are the physical characteristics of the server – things like hard disk space, which will impact the number of sites you can host within your package, or media files and emails you store there. Then, like every other computer, there's the type of CPU and amount of RAM – factors which will influence speed and server response times.
The performance of the server – and its integrity – will heavily influence the performance of your site within search engines, and as such it's worth getting the best website hosting you can afford, and upgrade when you can afford better.
Performance – you get what you pay for.
As I've already touched upon above, cost is inevitably a factor when starting out, and while there are plenty of affordable options out there, like most things you get what you pay for.
Your website's performance, and therefore how it is treated by the search engines, will be significantly impacted by the performance of your server. But it's not limited to its physical makeup, it can also be influenced by performance related software, if this is available on your server. Programs such as Litespeed Cache, Redis and Memcached can all help speed up the delivery of your website to visitors. The same is true of carrying out certain updates to your databases.
It's therefore worth finding out what your host can provide in the way of additional performance enhancements, and help give your site the edge over competitors in the eyes of the search engines.
Are SSL certificates included.
SSL (Secure Sockets Layer) certificates are a means by which a site can establish a secure, encrypted connection between the server and the user's browser. Having a secure connection is no longer solely of importance to e-commerce sites and membership-based sites, that gather user data in order to provide products and services, but is now considered extremely desirable in the eyes of the search engines for all sites.
You should therefore have some means of generating and renewing the SSL certificates you need to ensure you can provide a secure connection for your site.
Because of the perceived importance and significance of them, it should no longer be necessary to pay for SSL certificates, and you should find them available in most packages.
Where are the servers located.
There are a couple of reasons why this is an important factor. Firstly, there's privacy – if you are handling personal data for European users, but your website is hosted in the US, for example, then this might pose an issue. This might also be true of the UK at some point.
Then there's the location of the majority of your audience. If they're in France, it's best to have the server located in France. If in the US, it's best to have it in the US. The pages will be served faster – we're usually talking only a fraction of a second, but that's enough to have a noticeable affect on the user's experience, and that impact on performance will also affect how search engine perceive your site.
The server's location might not be advertised, but a quick chat with the pre-sales team will allow you to confirm this.
What's the client support like.
When you buy website hosting, you need to liaise with the hosting company directly when trying to address any issues – whether it's performance issues or you've been hacked, or for some unknown reason your site goes down. You therefore want to know you can trust you will get a prompt response, and proper engagement with your issue – hopefully leading to a quick and effective resolution.
Client support is therefore really important. However, without a test-drive so to speak, there's no way of knowing what you're walking into. This is where you have to conduct your own research and find out what others are saying about the hosting company you are considering signing up with.
Conclusion.
The above are some of the main factors you should consider before purchasing your website hosting, but one thing worth remembering is that should you find that your host isn't delivering on performance, security and customer support to the level you need, you can always transfer to a different host. Many companies even offer a free transfer, as a means of making such a move as hassle-free as possible.
It's also worth revisiting your package on a regular basis, and seeing if you can get better elsewhere, but also to ensure you are investing in the best you can afford.
At Open Eye Media I offer carbon-neutral and climate positive website hosting – using the same provider I use for my own sites – so if you would prefer someone else take care of this for you, then get in touch.
Book a free consultation
Every Monday and Friday I offer free consultations to help you with any challenges you're having with your website or digital content – whether existing or a work in progress.