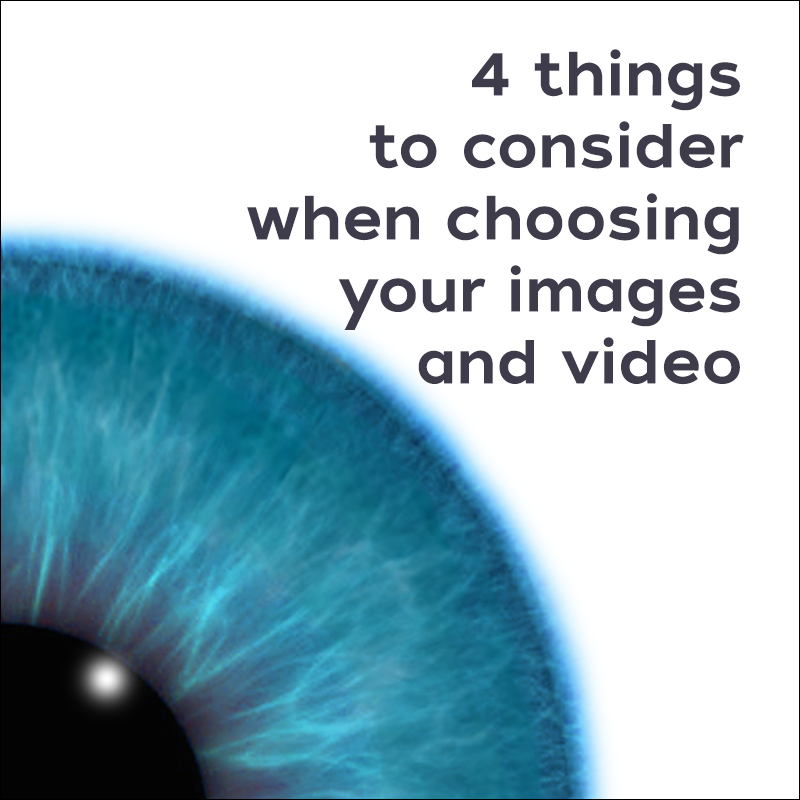 The images we choose and videos we produce for our websites will generate a response – positive or negative – from the people who engage with them. When creating and selecting visual content for our websites, you therefore need to be conscious of the responses it might elicit, and the impact those responses might have on you, your organisation, and not least the people represented in the photos or video. You should be striving to ensure your visual content is of the highest standard possible, as well as engaging and impactful in the way we intend it to be.
Here are 4 things we should all be considering before we publish anything on our website.
1. Know what you want to communicate
This might sound obvious, but every image tells a story. It's therefore important to ensure the images you choose are effective in telling the story you wish to share, and communicate the messages you wish to convey, with your target audience. Once you know exactly what it is you want to communicate, then you can use that to inform your editing process, and the selection of the images and video you go on to publish. If you're using images you've taken yourself, it's useful to ask someone else to review your selection – someone without any attachment to the images and their contents.
2. Be unique and use stock imagery sparingly
Your images are part of your or your organisation's brand and brand voice, so when possible make these visuals unique or bespoke to show who you are and what you do.
There are many stock libraries offering billions of images covering a vast range of subject matters – such as Alamy, iStockPhoto, and Adobe Stock, to name but three. They offer an affordable, and convenient means of getting some professional imagery for your website, publications and social media. These libraries can be an invaluable service when first starting off.
However, stock imagery is generic and can be used by everyone and anyone who has a license. This means you won't stand out or get to show your audience your unique brand and why they should work with you. Unless you know you're unable to get a particular image by any other means, ideally the use of stock imagery would only be a temporary solution. When you have the opportunity and resources it's best to commission a professional photographer to obtain unique, bespoke imagery for your needs. For those people not doing anything out of the ordinary, this might actually work out cheaper that paying for licenses for a range of stock imagery.
3. Ensure you have a professional-looking portrait
The same thought and consideration you put into the visual content you use on your website and marketing material should also go into your chosen portraits or headshots. They should always be of a professional standard, and reflect how you want to be seen by your target audience. Investing in professional headshots or portraits taken by a professional photographer is an opportunity for you to create images that accurately reflect who you are now, and through careful composition, along with your choice of clothing, the lighting, the background, and all other elements of the image and how you present yourself, you can ensure the images reflect you and your brand in the way you want and need them to. It may seem like an extravagance, especially when you're just starting out, but how you represent yourself or your organisation is going to impact people's perception of your organisation, so best to get it right from the outset.
You can read a brief post I wrote on this subject on my portfolio website.
4. Use video as well as stills
Single images can be very powerful and effective at communicating a particular story or message, but video can offer a depth stills imagery simply can't provide. With YouTube being the second-most visited site on the Internet, and second-most used social media platform, it alone offers huge potential for engaging your target audience. There are, of course a plethora of other platforms to utilise – the key is understanding where your target audience frequents the most, and thereby maximising the potential for them seeing your video. According to a recent video marketing report carried out by Wyzowl, 94% of marketers polled said video has helped increase understanding of their product or service. While 87% said their video marketing activities resulted in an increase in traffic to their website, and 86% said it helped develop leads.
Video production can be time, energy and resource intensive – whether you decide to give it a go yourself, or hire a professional. But, as existing levels of engagement and trends would indicate, if carried out properly, it can be an invaluable tool, complement or build upon your existing visual content, and offer significant returns on your investment.
—
The above are just 4 things you should be thinking about when sourcing visual content for your website. There are of course more to consider, but I hope the above points you in the right direction, and helps you reflect on what visual content is best for you and your organisation.
I'm a professional photographer and video producer with 10 years of experience, and have worked with many organisations to get them the images and video content they need. So, if you would like to discuss the stories and messages you wish to communicate, and how best to go about creating the content you need, book a free consultation.
Book a free consultation
Every Monday and Friday I offer Website Surgeries – free consultations to help you with any challenges you're having with your website – whether existing or a work in progress.